Gifts for pet lovers – Frequently asked questions
Here at Cheeky Little Prints we offer a great range of personalised gifts for pet lovers.  Below are answers to some of the common questions our customers ask. If we haven't covered your query, please do get in touch we would love to hear from you.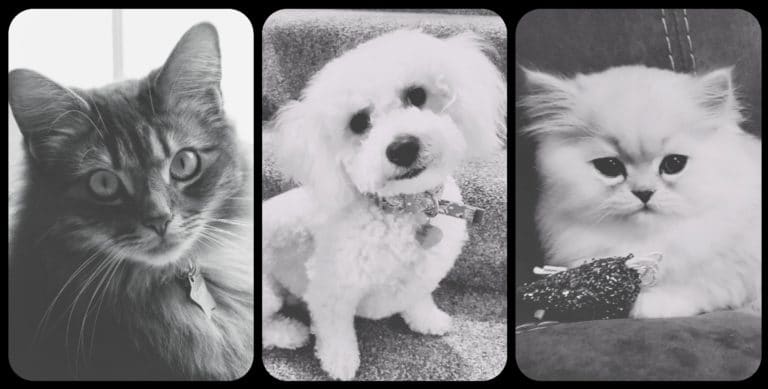 Oscar, Nova & Arlo
COVID-19 UPDATE 21.12.2020
Due to the development of the more contagious strain of covid-19, in an effort to reduce risk and keep you and us as safe as possible we will now go back to batching our post office runs.  We always have inkless paw print kits posted within 48 hours of you placing your order. In fact most of them are posted same or next day, which means we are at the post office up to 6 times a week.
We will now try to post out inkless paw print kits and finished orders 3 times a week so you still receive them quickly but we are reducing post office visits and therefore the risk of covid-19 to both you and us.
If you do need your inkless paw print kit in a hurry please contact us when you order and we will do our best to make exceptions and post your kit asap.
We are continuing to take all the precautions possible to keep everyone safe, working from home, using the Post Office Drop and Go service to limit time in the Post Office, correct sanitising and hand washing when out and at home dealing with post etc. Mask wearing in shops etc although we hardly visit anywhere.
We are well stocked up on all of our supplies and materials just in case our supply chains are affected by any local or national lockdowns that may be required. In the event that we do run low on certain supplies and can't get them we will of course let you know as soon as possible.
Ordering earlier rather than later is strongly advised as always but now more than ever with regard to supplies and also postal delays we are experiencing.
As we operate mostly online you won't really notice any difference in our service. The company we collaborate with for some of our gifts are local and allowing collections, alternatively they can deliver to us like they did in lockdown so there shouldn't be any interruption in service there either.
Post wise, there are significant delays in some parts of the UK at the moment, you should expect longer than normal delivery times.
If you have any questions, please get in touch and we will be happy to help you ?
My dog/cat is very nervous — will it be difficult to get a paw print?
One of the reasons our range of paw print jewellery is popular is that it's usually very straightforward to obtain the prints from your four-legged friend. The Inkless Paw Print Kits we send out are easy to use, and with no ink involved, they aren't messy at all.  You should be able to get a good paw print from even the shyest of pets.  Simply pick a nice quiet time with your pet (perhaps when they are feeling sleepy), get them comfortable and then follow the instructions that are included in your kit.  Each paw print kit comes with full instructions and tips printed on the back cover of your print kit folder.  We are on hand to help you as well should you need some assistance.  Simply call, email or contact us via our social media channels and we will guide you through so you can capture your pet's unique paw prints 🙂
Have a read of our blog How to Take Amazing Paw Prints for lots of tips to help you capture your furbaby's unique paw prints.
Will you keep a copy of my furbaby's paw print on file for me in case I want to order further gifts and keepsakes?
Once you have uploaded a photo or scan of your furry friend's paw prints to the website, we will tidy up any extra furry bits and then send you a proof to approve.  You get to keep your furbaby's original paw prints at home in your special folder.  You will also have the digital paw print image that we email you to keep.  We will also keep a digital copy of your pet's unique paw prints on file for 6 months free of charge for you so it is super easy for you to order further gifts and keepsakes showcasing your furry friend's unique paw prints.  This paw print storage service can be extended after the 6 months if you wish. You can place your order online for any of our gifts for pet lovers and we will take care of the rest for you.
Do you use my own pet's real paw print?
Yes, absolutely.  All of our gifts for pet lovers are created with your own furbaby's unique paw print.  Every file is very carefully labelled and you will be sent a proof to approve of your pet's unique paw print and you will be able to see that it is your pet's paw print as it will look very similar to the original prints you uploaded, just a little tidier 🙂
How long does the process take and what if I need my jewellery in a hurry?
Your inkless paw print kit will be sent by first class post within 48 hours of us receiving your order. Capturing paw prints is very simple and should only take a few minutes. Once you have your furbaby's lovely paw prints, simply upload them to the website on the paw print uploader page.  We will confirm receipt of your pet's unique paw prints, tidy up any extra furry bits and then email you a proof to approve.  If you don't receive confirmation we have received your paw prints within 48 hours, please email lisa@cheekylittleprints.co.uk just in case they didn't come through to us.
Following approval, your stunning silver paw print jewellery will be handcrafted with love.  Your finished personalised jewellery will be sent to you by Royal Mail Special Delivery within 14 days of receiving approval of your prints. Special Delivery parcels are fully insured and guaranteed to arrive by 1pm the day after posting and will require a signature.
If you require your jewellery in a hurry, please select our express service when you place your order, this service costs £30 and means your order will jump to the front of our order queue and your finished jewellery will be shipped by Royal Mail Special Delivery 7 days (5 working days) after receiving approval of your prints and personalisation details.
What are the lead times for inkless paw print kits, personalised stamps and paw print gifts?
All inkless paw print kits are posted out within 48 hours of you placing your order so the lead time for paw print kits is 48 hours.  When ordering personalised paw print stamps and gifts your inkless paw print kits will be posted out within 48 hours as usual.  Finished stamps will be posted within 7 days of you approving your furbaby's paw print proof.  Finished gifts for pet lovers such as Christmas decorations and mugs will be posted within 7-10 days of paw print approval.
I've seen PMC mentioned on websites — what is it and is it environmentally friendly?
PMC stands for Precious Metal Clay. It's the material we use to create our silver paw print jewellery.  PMC is a clay-like substance containing silver particles, an organic binder and water. During firing, the organic binder and water burn away leaving the metal particles to melt and fuse together. PMC is environmentally friendly as the silver comes from recycled sources such as photographic film and negatives.  Cheeky Little Prints are proud to be using an environmentally friendly material to create our very special silver paw print jewellery.
How pure is the silver used to make the jewellery?
Your jewellery will be handcrafted from professional grade Art Clay Silver 950 (PMC).  After firing, your jewellery will be 95% silver and 5% copper. This means that if it were to be hallmarked, it would meet the purity criteria for hallmarking as sterling silver in the UK.  All jewellery findings and fittings (e.g. chains and cufflink fittings) are sterling silver unless otherwise stated.
How do I care for my silver personalised jewellery?
As with all jewellery it is advisable to remove it when using household cleaning products as these harsh chemicals can mark the sterling silver. The best way to clean your silver jewellery is to use an impregnated polishing cloth (you will be sent one with your finished jewellery). Liquid silver cleaners should be avoided as these will remove the antiquing and change the silver's appearance.
If you wear your jewellery on a daily basis or it comes into contact with other metals, such as keys, it is likely to scratch and show signs of wear, and it's possible some detail may fade. You are advised to regularly check all jewellery findings and fittings e.g. chain and bracelet clasps, jump rings and key rings to ensure they have not been subjected to wear and tear.
Mali, Jack and Dash
Why is the jewellery not hallmarked?
Under current legislation, any silver items weighing less than 7.78 g do not need to be hallmarked. On average, the pendants, cufflinks and key rings etc used to create our jewellery weigh less than this and therefore don't need hallmarking. You will find the sterling silver components of your jewellery e.g. chains and cufflink fittings are stamped with a 925 sterling silver quality mark (please note a quality mark is not the same as a hallmark).  Please see the diagram below for further information on hallmarking in the UK.  If you have any questions regarding this, please get in touch and we will be happy to help you.