Ceramics were born in 2011…
Ceramics were added to the beautiful range of keepsakes I create back in March 2011.  I have had a huge amount of pleasure from hand-painting thousands (I don't know the exact number but it's a lot!) of pieces of pottery showcasing your little one's beautiful hand and footprints.  These amazing keepsakes have been painted with hand and footprints of all different shapes and size, a whole range of colours and even languages (German, Italian, South African as well as English).
Ceramic keepsakes are being phased out…
Although I love creating all of your wonderful ceramic keepsakes there are so many exciting things I want to pursue, launch and achieve with the stunning personalised silver jewellery I create.  I have taken the difficult decision to phase out and discontinue the ceramic keepsakes at Cheeky Little Prints to enable me to focus fully on bringing you the best silver keepsake jewellery, introducing new designs and continuing to deliver outstanding customer service.
1st come 1st served so get your orders in now before I sell out…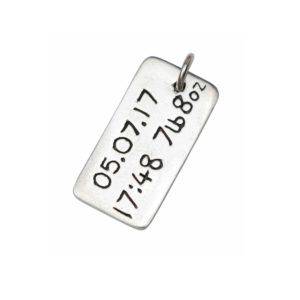 I have quite a lot of pottery in stock at the moment but I will not be ordering any more in so if you are planning on ordering ceramic keepsakes e.g. for Christmas etc I would advise you contact me and book your appointment sooner rather than later.  All ceramic keepsake orders will be completed on a 1st come 1st served basis.  As an example I have around 15 photo frames, 25 plates (20cm diameter), 20 large coffee mugs and just under 80 baubles.  These are just a few of the items, as most of you are aware there are many to choose from.
Contact me today to book your print appointment and secure the ceramic keepsakes you would like created before they all sell out!  Call me on 0779 2835 639 or email [email protected] to book your appointment.
Reserve your ceramics for my next Camp Hopson Event
For those of you who normally visit me at Camp Hopson in Newbury, my next event is Saturday 14th October.  I will take reservations for that event so you can reserve your chosen pottery in advance and I will keep it for you for that date.
Exciting times for silver keepsake jewellery…
Please note all jewellery print taking and orders will continue as normal and expand.  I am super excited about the future of silver jewellery at Cheeky Little Prints 🙂  I will be continuing to work with all of those fabulous businesses who I collaborate with like Camp Hopson, Nurseries and Pre-Schools.  I am seeing some very exciting trends, with silver paw print jewellery now being the most popular style of jewellery ordered.  I would like to thank all of you who have ordered ceramic keepsakes from me over the last 6 and a half years, I have loved hand painting them all and I am very excited about the extended range of stunning silver jewellery I will soon be offering.
If you have any questions, please get in touch and I will be happy to help.