Did you know that Cheeky Little Prints was first established in April 2009 when Lisa's first son was just 10 months old!  Wow, and what a 10 years it has been so far.  Thank you to all of our wonderful customers who have helped and supported us during this amazing 10 year period.   We really couldn't have done it without you.  Excellent customer service is a strong held value of Cheeky Little Prints and we are very proud to have served so many parents and pet owners so well over such a long period of time. This high level of service is reflected by the large number of customers who return to order further gifts and keepsakes 🙂
An important milestone
Hitting the 10 years in business milestone is a really big thing.  You may not know this but statistics show that only 4% of businesses make it to the 10 year mark, 4%!!!!  That means 96% of businesses fail, which is frightening and very sad.  Running a business is not easy by any stretch of the imagination but it is so worth the hard work, blood, sweat and tears.  When you see the look on people's faces when you hand them a piece of hand crafted sterling silver jewellery that showcases their very own pet's unique paw print, personalised with their name, any challenges you may be facing just melt away.  Giving pet owners the opportunity to keep a part of their precious pet with them wherever they go is such an honour, it really is 🙂
The twists and turns of a 10 year journey
As I am sure you can imagine, Cheeky Little Prints looks, feels and operates very differently now to how it did way back when, 10 years ago!  I will let you into a few of those twists and turns here.  In the beginning a large proportion of our orders were from parents wanting to capture their little one's unique fingerprints, hand and footprints in sterling silver jewellery.  A couple of years into the business, ceramic keepsakes with hand and footprints were introduced, which were really popular.  Sometimes you just couldn't move for cute hand and footprint baubles in the run up to Christmas time!  By the time we were 2 years in there were 2 little boys to look after and keep things interesting!  The business grew bit by bit, largely due to word of mouth and recommendations as Lisa was always at baby and toddler groups and Pre-Schools etc so lots of people knew about Cheeky Little Prints.
By 2012 Lisa was getting a lot of requests for silver paw print jewellery, so this was added to the range and it quickly became a firm favourite with customers.  Following a divorce in 2013 Lisa and her children Ollie and Jake, along with Cheeky Little Prints relocated to Swindon where they are now very settled.  The business continued to grow and had a big shake up in 2017 when Lisa made the decision to discontinue the range of ceramic hand and footprint keepsakes so that she could focus on the silver keepsake jewellery and also release her brand new personalised paw print stamps.  The demand for silver paw print jewellery and personalised gifts continued to grow stronger and they became the most ordered keepsakes.  At the beginning of 2019 plans were drawn up to put into place another big change.  It was time to specialise and niche specifically in the pet space.  A huge amount has happened in the background including a refresh of our branding and packaging, a web design company being brought into build this amazing new website. the ability to upload your paw prints and photos to the website, and our amazing "Your Pets" gallery, which we often share on social media, as well and so much more 🙂
On the whole 2019 has been an amazing year for Cheeky Little Prints, however, on 9th April this year, our hearts were shattered into a million pieces when we suddenly and unexpected lost our beautiful 4 and a half year old tabby cat, Tiger :'(  For those of you who have lost a pet, you too will know, it's a pain like no other :'(  We were so grateful for all of your kind words, best wishes, comments, messages and emails, they all really helped a lot, thank you.  We still miss Tiger a huge amount, she left a big Tiger sized hole in our hearts.  Although Tiger could never be replaced we welcomed into our home two cheeky and mischievous little kittens in July, named Sammy and Luna.  As you can imagine, they are keeping us on our toes and are trying to "help" type this blog!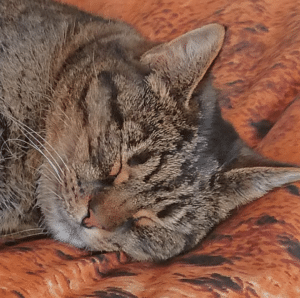 Purrfect media coverage
Reaching the 10 year milestone is such a big deal and it deserves celebration and recognition so Lisa asked Fiona Scott Media Consultancy to write a press release to mark the occasion and this attracted a lot of attention.  Shortly after it's release our story was picked up and covered by several local publications; Born Again Swindonian, Total Guide to Swindon, The Business Exchange online and The Swindon Adver (both online and in the physical newspaper)!  This was a fantastic result and we shared it all over social media and had some amazing feedback and comments in lots of the business networking groups on Facebook where Lisa interacts.
Celebrating with a pawsome special offer
To celebrate reaching our 10 year milestone and also the launch of this brand new website we are giving away a FREE personalised paw print mug (worth £14) when you order any silver paw print jewellery from this brand new website.  This offer is restricted to the first 10 people who order silver paw print jewellery so you need to hurry as there are only a few left now.  There is no need to use a special code, simply order your silver paw print jewellery online and we will be in touch to design and print your very own personalised paw print mug!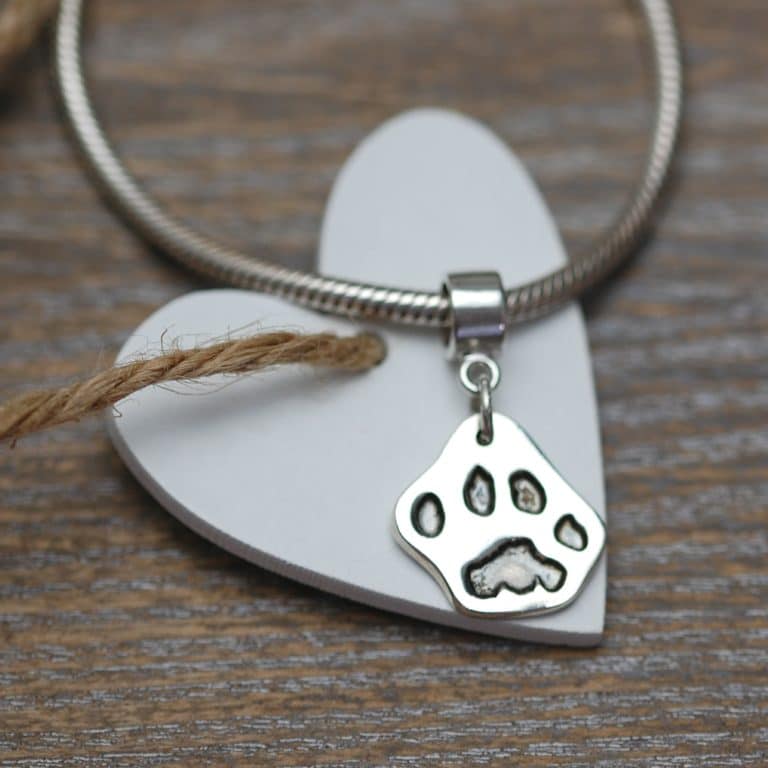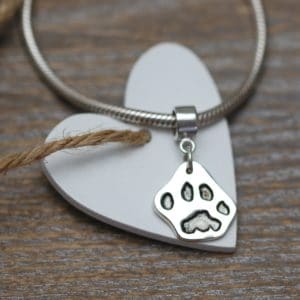 So what's next?
2019 has been an amazing year on the whole and we want to continue this.  We are getting ourselves geared up and prepared for the busiest few months of the year so we can cope with the upturn in demand.  Last week a fresh new order for 300 stamp blocks was put in to the loal business who creates these exclusively for Cheeky Little Prints.  Presentation folders and paw print kits are being prepared ready for packing and extra stocks are being ordered.  Lisa is working on some new jewellery samples that will hopefully be released soon as well so keep your eyes peeled on the website and social media and keep opening our emails 🙂
The last 10 years have been an amazing journey and we have learned so much.  We can't wait to get stuck into the next 10 years and just know they are going to be even better!
So fasten your seat belts furparents and furbabies, it's going to be an adventure 🙂